Podcast: Play in new window | Download
Subscribe: Google Podcasts | RSS
It's the long awaited Coronavirus episode of our podcast!
Hi there everyone! In this show Dave and I go through some of the Coronavirus facts and figures that are out there and deemed "official" along with some that are not.
We talk about the the origin stories we've heard and I offer my own take. As per usual, Dave does his best to steer our conversation way off course as often as possible.
We play some clips from various alt-news sources. And somehow we wind up discussing Dave's upcoming documentary (that I knew nothing about) which sends him into a giggle fit.
I also mention the Coronavirus tracker website, which can be found >>HERE<<.
After we recorded this episode I found a great post on reddit entitled "Nursing 101: Caring for your loved ones at home," which basically goes through best practices that should be followed if you have someone who may have the virus at your home. That post can be found >>HERE<<.
Actually with the way reddit deletes posts on a whim, I've screen captured that post and am now including it right here.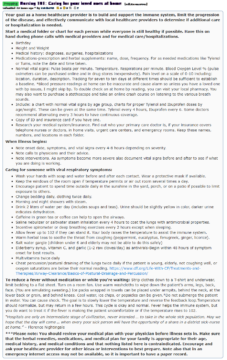 Finally, we speak briefly about Buzzy Linhart who passed away this week. If you have been to our website you may have noticed the tab marked "The Famous Doc." "Famous" is a documentary I put together about Buzzy nearly fifteen years ago. Buzzy was a talented singer/songwriter who came up in the Greenwich Village Folk Rock scene in the 60s. Dave regularly has referred to Buzzy as "an American treasure" and I think that's an apt description. If you have some time and you're interested in learning more about Buzzy, give the documentary a watch here.
Thanks again for tuning in! As always we appreciate you setting aside some of your time to listen to our nonsense.