MACK #105: Elisa Lam And The Cecil Hotel
Podcast: Play in new window | Download
Subscribe: Google Podcasts | RSS
[All links, photos and videos can be seen within the original post on MACKPodcast.com]
Recently Netflix put out a 4 part "documentary series" about Elisa Lam and the events surrounding her disappearance as well as her tragic end at The Cecil Hotel in Los Angeles.
This episode — and probably these show notes too — contain a ton of spoilers. If you would prefer to watch the documentary first, just go ahead and save this show for later.
Elisa Lam was a young and vibrant 21 year old who in a lot of ways was like many other 21 year olds. She went to college, she questioned her place in this world, she wanted to travel.
So travel she did. In 2013 she planned a west coast trip that would bring her to San Diego, Los Angeles and San Francisco. While staying in downtown Los Angeles' Cecil Hotel Elisa missed one of her daily phone calls with her mother. This missed phone call triggered not only a manhunt and investigation by the LAPD, but also a virtual investigation by a group of people online who were members of a community referred to as "web sleuths." The LAPD released a 4 minute video of Elisa in an elevator at the Cecil Hotel in hopes that someone would recognize her and come forward with some information.
The internet and more specifically, the web sleuths,  could not get enough of the video. Was Elisa speaking with someone? Why doesn't the elevator door close? Who is she gesturing to? Who is she hiding from? Whose shoe is that? What's up with the garbled time code at the bottom of the video?
These web sleuths were mostly well-meaning, but their inability to separate fact from fiction as well as their eagerness to follow some very vague "clues" down a rabbit hole — although they made no rational sense — led to some very far out there theories regarding Elisa. Beyond that, their sleuthing also led to a Mexican Death Metal musican, Morbid, having his social media accounts shut down (early cancel culture rears its ugly head) and his eventual attempted suicide.
There are quite literally thousands of videos about Elisa Lam's disappearance on youtube. Some are rundowns of her timeline in Los Angeles. Some include theories as to what really happened to her in the hotel. And then there are the videos from internet psychic mediums who claim to be channeling Elisa and revealing the truth of that night.
This last bunch, my God. They are repulsive.
A quick check of rotten tomatoes shows you that this is not a very well-received documentary. I'm not sure it deserves these really low ratings from the critics and the audience. But! I will admit there are parts of this series that are not great.
In one blog post Netflix omits a sentence, most likely because they think it will make Elisa less of a sympathetic character. How about you let the audience decide, Netflix?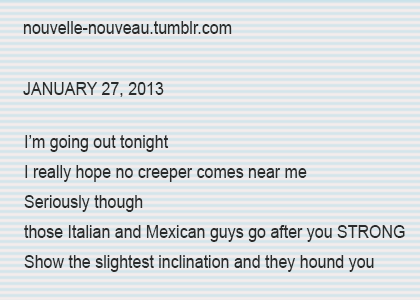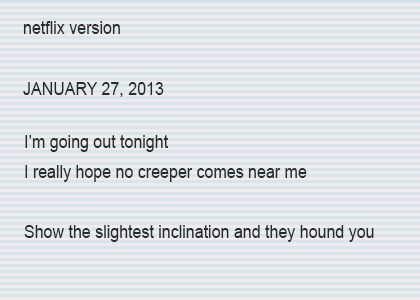 Why can't it be that Mexican and Italian men dig her look? Maybe she's had this happen to her quite a few times. She's not falsely accusing someone of rape. She's just making an observation. It's so not a big deal to leave it in there. By taking it out Netflix made it a much bigger deal. For me anyway.
One of the youtubers mentions in the doc that there are some interesting similarities between Elisa Lam's case and the movie "Dark Water." Dave reminded me that we actually reviewed Dark Water 15 years or so ago on another podcast we used to do.
Despite the low ratings and the details they left out, I personally would recommend watching this documentary series. It's very well produced and some of the interviews are pretty riveting. Although this is a netflix series, I was able to find this series online without having a subscription to that service.
Here are some links I promised to put here in the show notes:
Thanks for listening! See you next time!
XOXOX
Shecky
PS Be sure to check out some of our other movie related podcasts!