MACK #65: David Bowie & The Occult, Danny Masterson News & Presidential Tweets
Podcast: Play in new window | Download
Subscribe: Google Podcasts | RSS
[Links can be found by visiting this post on www.middleagedcoolkids.com]
Hi there friends!
We had a bit of a setback when we originally started to record this show. We sat down on Saturday and shit just wouldn't go right. So I gave up (rather dramatically!) and we tried again today. But since our experience on Saturday was so MEH we decided to change up the theme of today's episode.
What I wound up doing was writing 8 different topics on a page and I numbered them 1 through 8. Then I had our Dave pick a number between 1 and 8 and that would decide which one we spoke about.
His first pick was #8 which corresponded to MysteriousUniverse.com on my list.
On that website we found this really weird and wonderful story about David Bowie entitled: Sex, Drugs, and Demons: The Time David Bowie Had His Possessed Pool Exorcised by Brent Swancer (@m_mjapan on twitter)
From the article:
While he is rather well known for his strange and flamboyant theatrical shows and his surreal alter-ego Ziggy Stardust, many people may not realize that David Bowie was even stranger than they might had imagined, being very into UFOs, the paranormal, and the occult.
We go over this article in great detail! We talk about Bowie, play some music and have a lot of fun with this segment.
Dave's next pick was #5 which was Entertainment News on my list. For that we headed over to TMZ.com and grabbed their top article which happened to be a post entitled: Danny Masterson | Scientology Stalking Lawsuit . . . Just a 'Shameful Money Grab'
Now, as a regular reader of CrazyDaysAndNights.net I know all about Masterson and the reports of his serial sexual assaults. If you don't know but would like to, here's a link to all of their blind items about him and his "friends" >> CLICK HERE! Also if you have watched any of the Leah Remini show Scientology and the Aftermath, you also may remember that the series finale was about Masterson and his ongoing shameful behavior.
Anywho, we spend a little time going over that story before we move on to Dave's third and final pick.
Which was #1! And number one on my list was PRESIDENTIAL TWEETS!
Mostly we chit chat about twitter and social media in general. We both don't think it is a good thing.
When we checked twitter these were the latest and greatest from @realDonaldTrump —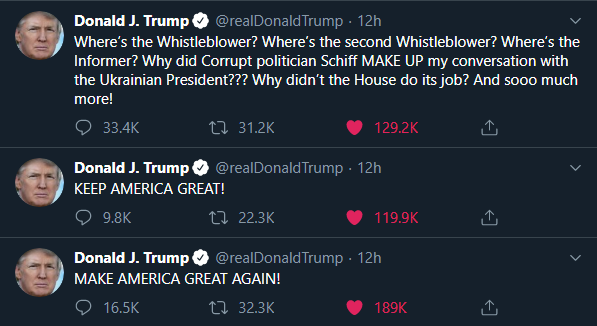 Good stuff!
I reveal to Dave what topics he didn't choose and then we agree to call it a night.
Thanks for listening!
You are appreciated!
XOXOX
Shecky