MACK #69: Weird And Wonderful News
Podcast: Play in new window | Download
Subscribe: Google Podcasts | RSS
Welcome to our Weird And Wonderful News episode! [Make sure to read this post on our website for access to all the links and stuff!]
Because there seems to be a whole bunch of news out there that's not so great, we figured we'd change it up this week. So that's why we're going all in on Weird and Wonderful!
Dave is not so much an uplifting news guy. He can find the bad in just about any situation, but that's what makes it so much fun for me.
Here are the stories we go over, you can decide for yourself if you think they are weird or wonderful.
Gross right? I remember when Secaucus used to be pretty rank. I haven't been there for a while, maybe they've cleaned that shit up. Anyhoo, Dave talks about another town he encountered that had a particular funk, I'll let you discover the city and the smell by listening along. Also we speculate on the Task Force that is investigating this particular #stink. This one is a "weird" for me.
Sounds wonderful right? Dave has his suspicions. He also weighs in on why he's ok with Missouri doing this, but he does not think Michigan or Minnesota would qualify for this program.
So this is a little weird and a lotta wonderful. Gibson's Gourmet Burgers and Ribs offers 207 different varieties of milk shakes on their menu and that is a world record according to the fine folks at Guinness. You absolutely have to click on this link right >> here << to see all of the amazing shakes they have available.
Dave has questions about Cape Town, the home of Gibson's Gourmet Burgers and Ribs. He is #TeamShawlville all the way. We talk more about the shakes and the food on their website because it looks so damn good.
We also take a quick walk down memory lane and discuss our love of The Guinness Book of World Records. It really was the funnest thing to peruse when we were little.
The Pacific Bonsai Museum of Washington State was robbed of two 70+ year old Bonsai trees. One of the trees was grown out of a tin can by a Japanese-American man who had been incarcerated in an internment camp during WWII. But the trees were returned! Wonderful! Or is it? Dave suspects a conspiracy, of course, and I personally think it was an inside job. Dave also has major concerns about Asians learning to appreciate sarcasm an irony.
Dave has apparently heard of a similar case before, which shocks me. This is totally a "weird." This poor woman kept getting turned down for a liver transplant because of her condition.  We go over the story and discuss the difference between this case and the one that Dave had heard of before. Also, Dave has some recommendations for comedian and SNL Alum, Jim Breuer.
Another "wonderful!" Our chat about this story lead to a discussion about a shady area of Sonoma County. Dave reveals he is irate about Target Tori (whom I adore) and thinks the cab driver in this story deserved more than what he got for doing everything in his power to keep a senior citizen from giving away a big chunk of her life savings. Also, winky dinky dog.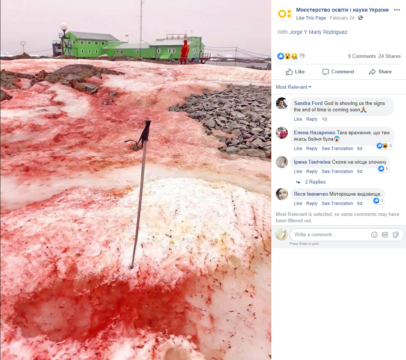 The headline as well as the photos are pretty great! But the truth of the matter is the explanation is kinda meh. The whole phenomena has to do with blooming algae, which absolutely should not be confused with blooming onions — which are delicious.
Dave also becomes interested in learning more about Antarctica, including it's pronunciation.
We didn't want to end on a weird, especially since it looks so much like a crime scene so instead we end with this wonderful story! Eva Sharpless recently celebrated her 109th birthday! This leads Dave to speculate about Scranton, PA for reasons unknown.
I try to end the show after this story, but Dave has one more thing he wants to talk about, and that's Lady Gaga's Dad.
Woooo! That's a lot of Weird And Wonderful News crammed into one episode. I hope this show helps take your mind off any of the not-so-great things that may be happening around you.
Much love to you and yours from me and mine.
XOXO
Shecky